Understanding Graphic Design: Unveiling the Artistry and Impact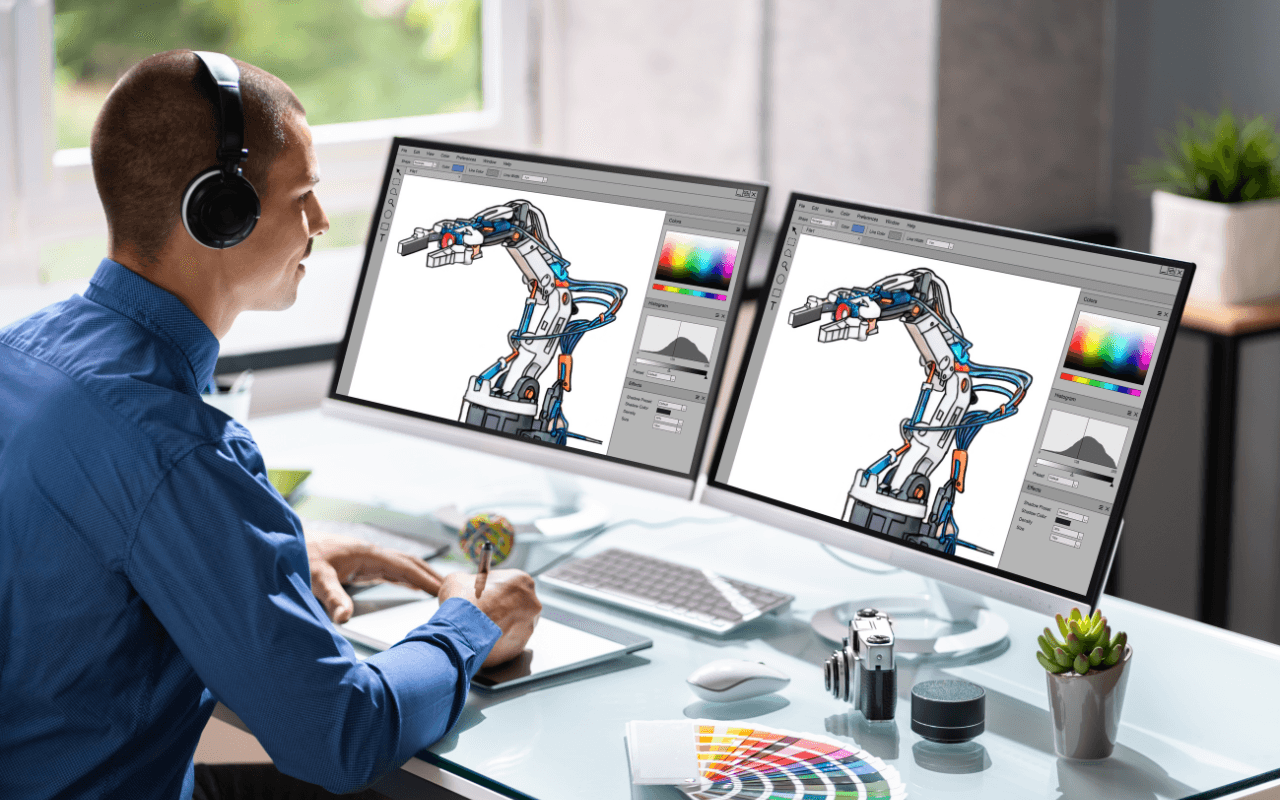 In today's digital age, where visual communication is paramount, the role of graphic design has grown exponentially. From the logos we recognize at a glance to the captivating advertisements that lure us in, graphic design is the unsung hero behind countless visuals that shape our perceptions. In this comprehensive guide, we'll delve into what graphic designing is all about, exploring its core principles, applications, and its profound impact on various industries.
At its core, graphic design is the art of creating visual content to communicate messages effectively. It's the fusion of creativity, technology, and communication, resulting in captivating visuals that convey information, evoke emotions, and tell stories. Graphic designers are the masterminds behind logos, posters, websites, advertisements, and more. They play a pivotal role in shaping how we perceive brands, products, and ideas.
The Role of a Graphic Designer:
A graphic designer is a visual communicator who blends artistic flair with technical expertise. They collaborate with clients or creative teams to understand the intended message and target audience. The designer's role involves conceptualizing ideas, creating mock-ups, and refining designs based on feedback. They use various tools and software to bring their visions to life, ensuring that the final product aligns with the client's goals and resonates with the audience.
Key Principles of Graphic Design:
Achieving a harmonious arrangement of elements is crucial. Balance can be symmetrical or asymmetrical, while composition involves organizing elements to guide the viewer's eye through the design.
Choosing the right fonts and arranging text attractively is essential for legibility and aesthetic appeal. Typography sets the tone and mood of the design.
Colors evoke emotions and convey meanings. Designers use color theory to select palettes that resonate with the intended message and audience.
Contrast adds visual interest by juxtaposing different elements. It enhances readability and guides the viewer's attention to the most important aspects of the design.
Establishing a clear hierarchy helps convey information in a structured manner. Designers use size, color, and placement to guide viewers through the content.
Applications of Graphic Design:
A strong brand identity begins with a well-designed logo, colors, and typography. Consistent branding builds recognition and trust.
Marketing and Advertising
Eye-catching visuals in advertisements and marketing materials grab attention and influence consumer behavior.
Websites must be visually appealing, user-friendly, and intuitive. Graphic designers work on layouts, icons, and other visual elements.
From business cards to brochures, print materials require thoughtful design to effectively convey information.
Product packaging is a powerful marketing tool. Designers create packaging that reflects the brand and entices customers.
User Interface (UI) and User Experience (UX) Design
Designers create interfaces that are not only visually appealing but also easy to navigate, enhancing user satisfaction.
Is Graphic Design a Good Career?
Absolutely, graphic design offers a dynamic and fulfilling career path. As businesses continue to emphasize visual branding, the demand for skilled graphic designers remains high. With opportunities spanning various industries, from advertising to tech, graphic designers have the chance to make a lasting impact through their creative talents.
The Impact of Graphic Design:
Graphic design has a profound impact on various industries:
Effective branding and marketing materials can differentiate a business and boost its bottom line.
Movie posters, book covers, and album art capture the essence of the content, driving interest.
Educational materials with engaging visuals can facilitate learning and understanding.
Powerful graphics can raise awareness about social issues, rallying support for change.
User-friendly app interfaces and visually pleasing websites enhance the user experience.
Graphic design encompasses a range of specialties:
Crafting logos, colors, and typography to represent a brand's identity.
Creating designs for physical materials like brochures, flyers, and posters.
Designing user interfaces and experiences for websites and applications.
Designing product packaging for aesthetics and functionality.
Creating animated visuals for videos, presentations, and more.
Hand-drawn or digital illustrations are used in various contexts.
Focusing on the art and arrangement of typefaces.
Designing for physical spaces, such as exhibitions or interiors.
Embracing the Visual Language
In a world dominated by images and visual stimuli, graphic design serves as the universal language that bridges gaps and communicates messages across cultures and languages. From the logos we recognize to the websites we navigate, graphic design is an omnipresent force that influences our choices and perceptions. Understanding its principles and applications empowers businesses, individuals, and causes to make a lasting impact through the power of visual communication. So, whether you're an aspiring designer or someone who simply appreciates artistry, take a moment to observe and celebrate the graphic designs that shape our world.